OGITECH SUG notice on payment of schools fees in installments
The students union government ably led by Comrade Ayinde Saheed wishes to bring to the notice of the entire Students that 60/40 installment payment of tuition has been fully implemented.
That is, Students who have paid 60 percent of their tuition can now process their Matriculation number and Identity card.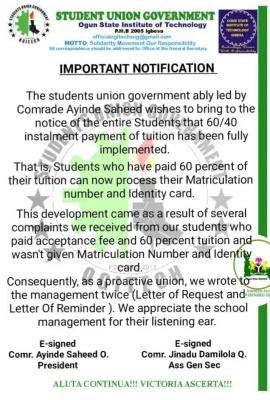 This development came as a result of several complaints we received from our students who paid acceptance fee and 60 percent tuition and- wasn't given Matriculation Number and identify card 13
Consequently, as a proactive union, we wrote to the management twice (Letter of Request and Letter Of Reminder ).
We appreciate the school management for their listening ear.