Nigerian Army College of nursing and midwifery 2021/2022 Admission form
This is to invite suitably qualified candidates for Admission into Nigeria Army College of nursing and midwifery Programmes.
ADMISSION REQUIREMENTS: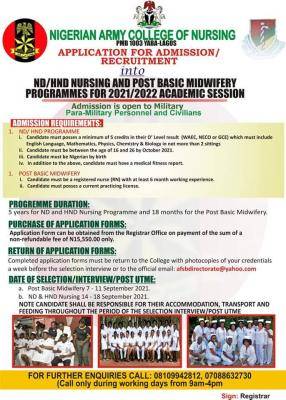 1. ND/ HND PROGRAMME
i Candidate must possess a minimum of 5 credits in their O Level result (WAEC, NECO and GCE) which English Language, Mathematics, Physics, Chemistry & Biology in not more than 2 sittings
i. Candidate must be between the age of 16 and 26 by October 2021.
i. Candidate must be Nigerian by birth
iv. In addition to the above, candidate must have a medical fitness report.
1. POST BASIC MIDWIFERY
Candidate must be a registered nurse (RN) with at least 6 month working experience. iL Candidate must posses a current practicing license.
PROGRAMME DURATION:
5 years for ND and HND Nursing Programme and 18 months for the Post Basic Midwifery.
PURCHASE OF APPLICATION FORMS: Application Form can be obtained from the Registrar Office on payment of the sum of a non-refundable  fee of N15,550.00 only.
RETURN OF APPLICATION FORMS:
Completed application forms must be return to the College with photocopies a week before the selection interview or to the official email: afsbdirectorate@yahoo.com
DATE OF SELECTION/INTERVIEW/POST UTME:
a. Post Basic Midwifery 7 – 11 September 2021.
b. ND & HND Nursing 14 – 18 September 2021.
NOTE CANDIDATE SHALL BE RESPONSIBLE FOR THEIR ACCOMMODATION, TRANSPORT AND FEEDING THROUGHOUT THE PERIOD OF THE SELECTION INTERVIEW/POST UTME