Babcock University on-site mid-semester exam for batch B returning students
This is to inform all lecturers and returning students that the mid-semester examination for ALL BATCH B RETURNING STUDENTS will be held on-site after their resumption.
This is to avert hitches attributable to network failure, power failure, data failure and other challenges associated with on-line examinations.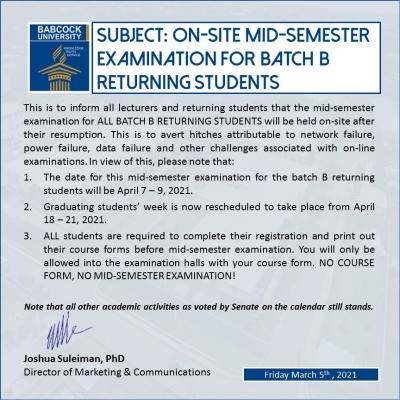 In view of this, please note that:
1.The date for this mid-semester examination for the batch B returning students will be April 7 – 9, 2021.
2.Graduating students' week is now rescheduled to take place from April 18 – 21, 2021.
3.ALL students are required to complete their registration and print out their course forms before the mid-semester examination. You will only be allowed into the examination halls with your course form.
NO COURSE FORM, NO MID-SEMESTER EXAMINATION!
Note that all other academic activities as voted by Senate on the calendar still stands.
Joshua Suleiman, PhD
Director of Marketing & Communications