Kogi State Poly notice on printing of 2nd semester exam dockets, 2019/2020
This is to remind all students of Kogi State Polytechnic that they are to print out their Second Semester Examination Dockets from their Portal. This is to be duly signed by the student, assigned accounting officer of the Polytechnic, and their respective HODs as this will serve as permitted into the Examination hall.
ALL REGISTERED STUDENTS ARE REQUIRED TO LOGIN TO THEIR PORTAL, CLICK ON 2019/2020 EXAM DOCKET, AND PRINT A COLORED COPY OF THEIR SECOND SEMESTER EXAMINATION DOCKET.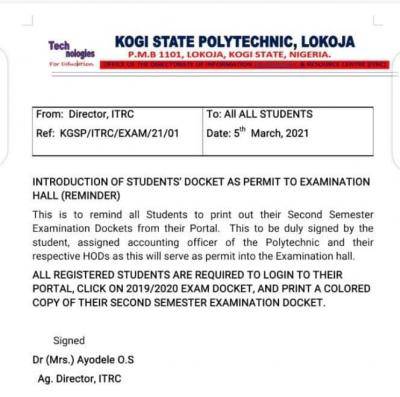 Signed
Dr (Mrs.) Ayodele O.S
Ag. Director, ITRC