ABU notice to students with discrepancies in their course registrations
As a result of migrating records from the old to the upgraded students' portal, there were reported incidents of discrepancies in courses registered by some students.
Discrepancies are advised to: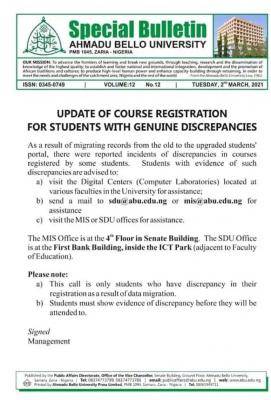 a) visit the Digital Centers (Computer Laboratories) located at various faculties in the University for assistance
b) send a mail to sdu@abu.edu.ng or mis@abu.edu.ng for Students with evidence of such assistance
c)visit the MIS or SDU offices for assistance.
The MIS Oflice is at the 4″ Floor in Senate Building. The SDU Office is at the First Bank Building, inside the ICT Park (adjacent to Faculty of Education).
Please note:
a) This call is only for students who have discrepancies in their registration as a result of data migration.
b) Students must show evidence of discrepancy before they will be attended to.
Signed
Management