RUN postpones resumption for fresh students
The Management of Redeemer's University has released a memo notifying Students most especially Fresh Students on the Postponement of its Resumption Date. This was announced by the school's management via its official website.
According to the management, the resumption of fresh students has been postponed from Monday, 26th October 2020, until further notice.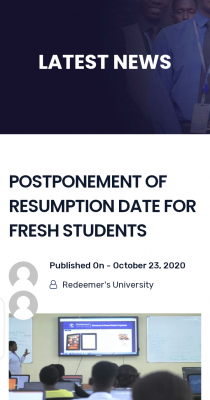 Students are advised that in order to secure a place, everyone offered provisional admission should pay his/her acceptance fee and other essential fees as contained in the earlier correspondence to you.