Kogi Poly extends registration deadline by two (2) weeks with conditions
The Principal Officers and Deans met on Friday 16 October, 2020 to review the enforcement of "No School Fees, No Examination." Following complaint, received from students, their parents and guardians.
The meeting considered the complain particularly due to difficulties with banks to pay their Fees because of one technical reason or the other and resolved as follows;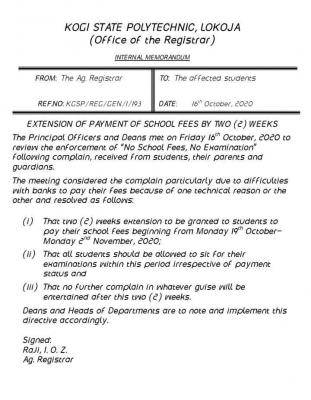 1. That two(2) weeks extension be granted to students to pay their school fees with effect from Monday, October 19th, 2020.
2. That all Students Should be allowed to sit for examination Within this period irrespective of payment.
3. That no further complain will be entertained After these two weeks.
Deans and head of departments are to note and implement these directives accordingly.