Covenant University postgraduate revised academic calendar, 2019/2020
The management of covenant university has released the revised postgraduate calendar for the 2019/2020 academic session. The calendar is shown below;
Covenant University revised Postgraduate academic Calendar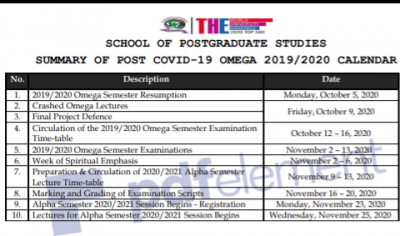 1. 2019/2020 Omega Semester Resumption ——Monday, October 5, 2020
2. Crashed Omega Lectures —–Friday, October 9, 2020
3. Final Project Defence —– Friday, October 9, 2020
4. Circulation of the 2019/2020 Omega Semester ExaminationTime-table ——-October 12 – 16, 2020
5. 2019/2020 Omega Semester Examinations —— November 2 – 13, 2020
6. Week of Spiritual Emphasis —– November 2 – 6, 2020
7. Preparation & Circulation of 2020/2021 Alpha Semester Lecture Timetable —November 9 – 13, 2020
8. Marking and Grading of Examination Scripts —– November 16 – 20, 2020
9. Alpha Semester 2020/2021 Session Begins – Registration —– Monday, November 23, 2020
10. Lectures for Alpha Semester 2020/2021 Session Begins —- Wednesday, November 25, 2020
RESUMPTION PROTOCOL
All returning postgraduate students should note the following:
COVID-19 and Medical Screening.
Every student is to be allowed back to school ONLY after certification of fitness to resume,
therefore;
1. All returning postgraduate students are to ensure they resume to campus with the following
infection prevention and control materials:
a). Facemask (at least 2 pieces).
b). Face shield.
c). A bottle of hand sanitizer (500 ml).
COVID-19 Screening
2. All returning postgraduate students that will be accommodated at Postgraduate Hall of Residence MUST undergo COVID-19 Screening/Clearance.
3. COVID-19 screening/clearances will hold at the Clearance Centre (CUSS ground).
4. All returning students are required to pay a COVID-19 Screening fee of N10,000.00 (Ten Thousand Naira only).
5. Payments will be at the Clearance Centre.
6. Screening will include:
a). Temperature check.
b). Travel history checks.
c). COVID 19 screening (Rapid Diagnostic Test -RDT).
d). Disinfection of students' bags and other materials.
7. Any suspected case will be required to return back for further checks and such a student shall return ONLY with a certificate from NCDC.
8. COVID-19 Screening/Clearance opens 8.00am and closes at 8.00pm daily.
9. All students expected per day MUST wait at the reception ground (car park) to access the
Screening/Clearance centre.
10. Guardians are to stay within the car park and inside their vehicles while the screening last.
ONLY students will be admitted unto the Clearance ground.
Resumption
11. Resumption details:
All Postgraduate students are required to resume on Monday, October 5, 2020.
Regular Medical Checks and Dress Code.
12. Routine medical checks will continue as a final medical clearance for all students.
University dress code and rules subsist and must be observed at all times.
Resumption Committee 2019/2020