BUK Students Union Government pays visit to the new VC, lists out complaints and student's need
The Students Union Government (SUG) of Bayero University, Kano (BUK) recently paid a visit to the new Vice-Chancellor of the institution, Prof. Sagir Adamu Abbas (Fman). The report and highlights of the visit are as follows:
The President on behalf of the union and all students of BUK congratulate him on his emergence as the new Vice-Chancellor and pray that Allah SWA endows him with more wisdom, knowledge, and courage to move Bayero University Kano forward.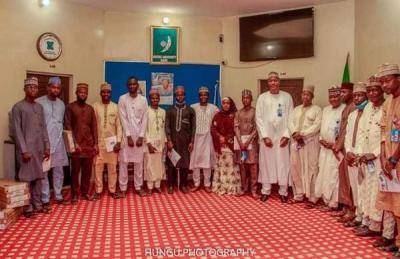 The President stated; "Despite the fact that the current Covid-19 Pandemic halted our tenure and also Capital Budget was not given, the student's union government was able to record the following achievement";
1. Renovation of D'Cabana common room to newly named Sule Garo common room at Old site.
2. Construction of Volleyball in AKTH.
3. Publishing Budget & Resolution online for transparency & accountability.
4. Organize free online registration for both fresh and returning students. (About 3000 students benefited from the program).
5. Successfully convinced the management to review the hostel fee hike.
6. Successfully convinced the management to allow sign out celebration themed "Final Year Connect".
7. In collaboration with Deanery Students' affairs, we were able to provide new hostel space at Ramat hall.
8. Successfully solicited tuition fee for 43 indigent students.
9. Regulate hostel hawking.
10. Distribution of 10 free laptops to students.
11. Distribution of palliatives to students stranded in Rimin Gata & Danbare during the Covid-19 pandemic.
12. Increment of SUG drivers salary from N25,000 to N30,000
13. Provided brand new sporting equipment (1 snooker & 2 table tennis) at Old site.
14. Successfully organized free tutorials for level 100 students'.
15. Converting "kitchen conversion" at Deanery to the reading area.
16. Successfully organized 1st ever town-hall meeting on a capital budget so as to record every students' need.
Also on behalf of the students, the Students Union Government made some recommendations to the school management in areas affecting the student's welfare. Which are as follows;
1. Extending bus service to Saturday's: As a result of mobility challenges faced by students during weekend lectures. We appeal to extend the services.
2. Renovation & Interlocking of SUG Secretariat: The building is facing many cracks, leakage of roofing, dilapidated ceiling, terrible toilet, other interior problem & interlocking the premises.
3. Acquiring 2 new engines for abandoned SUG vehicles for Campus shuttle; we intend to use the abandoned vehicles for the shuttle that would be conveying students from the gate to anywhere within the campus with a little token for maintenance of the vehicles.
4. Requesting for 24/7 library service; we are appealing that the library services hours should be extended during the examinations period so as to reduce the number of students reading beneath the streetlight which are prone to mosquitoes bite & reptiles.
5. Renovation of Students Halls; Most of the halls especially Saadu Zungur hall need urgent intervention in areas of toilet and window netting.
6. Finish touches of Sule Garo Common room; The newly renovated common room at Old Campus sponsored by Kano state commissioner for Local Govt. & Chieftaincy Affairs Hon. Murtala Sule Garo still needs to undergo some touches in the area of partitions and dilapidated ceiling and damaged by rainfall.
In his remark, the Vice-chancellor commended the students' Union and promise that the welfare of the students is one of his top priorities and also stated he will make sure that the SUG will be a member of every committee related to student's welfare.
Mahmoud B Yazid
Secretary General
SUG-BUK