WAEC Extends 2020 GCE Registration Deadline (2nd Series)
This is to inform intending candidates and the public that the 2020 second series of the PRIVATE WASSCE (WAEC GCE) registration deadline has been extended. The registration which was supposed to end August 28th, 2020 has been extended to October 23rd, 2020.
The registration fee remains Thirteen Thousand, Nine Hundred and Fifty Naira (N13,950) only.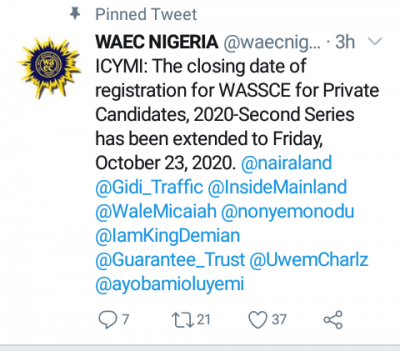 Those who wish to take the 2020 second series of the Private WASSCE (WAEC GCE) Exam and haven't registered for the Exam, should kindly do so before the new registration deadline.
Don't forget we now have both Objective & Theory questions and answers for all previous years, which will definitely help you in your coming exams. Feel free to get, and use this facility at this link; https://myschool.ng/latest-waec-past-questions-app-free-download
CLICK HERE to find the registration procedure as well as other instructions.